Value chain, supply chain and key elements of Corporate Responsibility
Swisscom generates the bulk of its added value through its activities in Switzer­land. In 2019, activities abroad accounted for 8% (prior year: 8%) of the Group's added value from op­er­a­tions.
The added value statement and the distribution of added value are addressed in the Man­age­ment Commentary of the Annual Report, in the "Financial review" section on page 44 ff.
Swisscom is associated with the Global e-Sus­tain­abil­ity Initiative (GeSI) It is part of the Re­spon­si­ble Business Alliance (RBA) and thus indirectly affiliated with the Re­spon­si­ble Mining Initiative (RMI). This initiative aims to monitor the origin of conflict minerals more closely than in the past. Swisscom imports the products in question for final con­sump­tion in Switzer­land. This im­por­ta­tion has a positive and negative impact on the en­vi­ron­ment, the economy and society along the value and supply chains:
The provision of consumer and investment items and their transport to Switzer­land have ecological effects on the use of energy and resources as well as on CO2 emissions.
The provision of in­fra­struc­ture and telecom­mu­ni­ca­tion services plays a role in ensuring Switzer­land's economic de­vel­op­ment and com­pet­i­tiveness.
Using Swisscom services offers added value to cus­tomers but also entails certain technical and social challenges.
Creating and main­tain­ing jobs in Switzer­land and within the supply chain has social and macroeconomic implications.
Swisscom's supply chains for direct suppliers and subcontractors primarily cover Europe, the United States and Asia. They are part of the electronics sector, particularly in the entertainment electronics, data processing hardware and network equipment segments. The raw materials contained in Swisscom's various products come from a wide range of countries and regions. Questions are increasingly being raised on the origin of the raw materials used and the associated en­vi­ron­mental and sociological risks.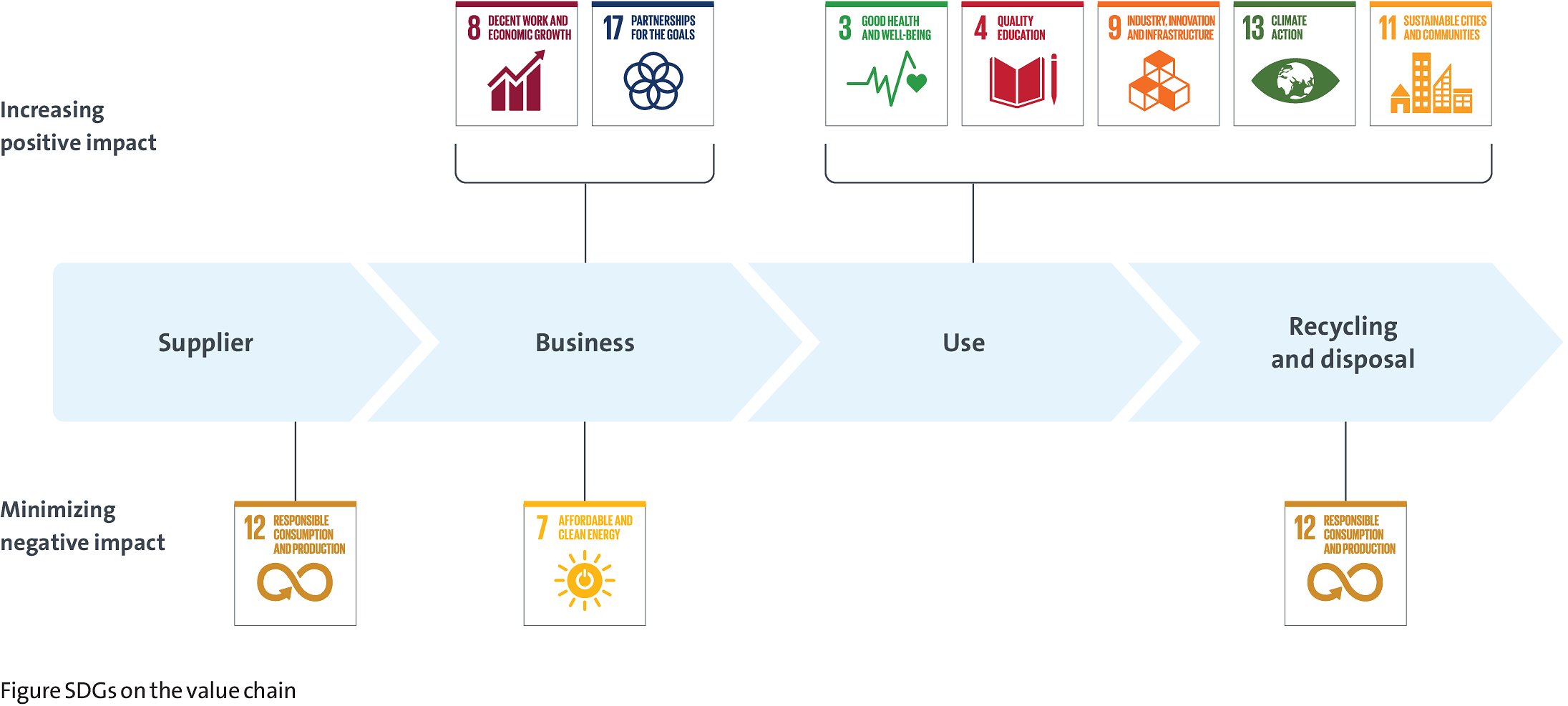 Swisscom assesses the effects on the en­vi­ron­ment, economy and society mentioned above according to their im­por­tance. It also involves stakeholder groups in the assessment, enabling strategic priorities to be incorporated into its work.