Share­holders' letter
Solid per­for­mance – despite extraordinary year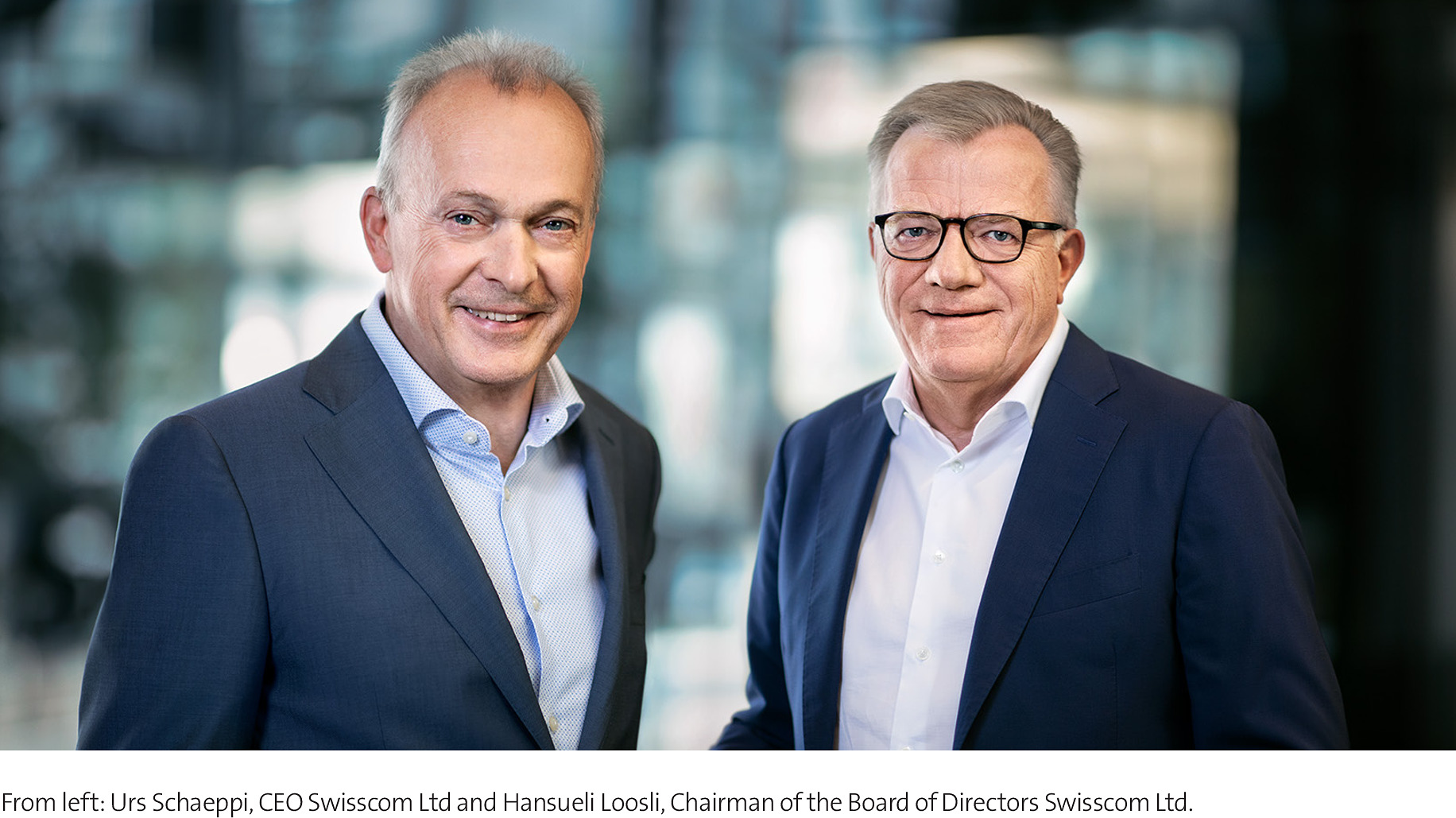 Dear Share­holders
If proof were needed of how im­por­tant digitisation is for society and the economy, then an extraordinary 2020 provided it in emphatic style. Home working, remote learning, online shopping and video calls all helped to alleviate some of the major disad­van­tages of the lockdown. It was a similar story at Swisscom: even though more than 80% of our employees worked from home, we maintained high productivity and achieved a solid financial result. We also set our future course through various innovations in our networks and the bundling of our entertainment offering under the "Swisscom blue" brand. Moreover, we were especially pleased to see Swisscom named the world's most sustainable telecom­mu­ni­ca­tions company and to witness our Italian subsidiary Fastweb grow in all segments.
A solid financial per­for­mance...
Swisscom performed well in the year under review despite fierce competition and high price pressure. Net revenue decreased by 3.1% to CHF 11,100 million, while operating income before de­pre­ci­a­tion and amor­ti­sa­tion (EBITDA) rose by 0.6%. On a like-for-like basis and at constant exchange rates, revenue declined by 2.3% while EBITDA remained stable. The decline in revenue was primarily driven by ongoing price pressure and the impact of Covid-19 – in particular, the lack of roaming revenue. At EBITDA level, the decline in revenue was offset by efficiency im­prove­ments. Net income fell by 8.4% to CHF 1,528 million due to the absence of one-off effects in income tax expense of the previous year.
Thanks to out­stand­ing per­for­mance and rigorous cost management
Excellent networks, innovative products and services and a committed customer service team form the basis for a high level of customer satisfaction and thus our success in the market. However, the pace of digitisation and intense competition are also calling for rigorous cost management. As announced in 2016, Swisscom plans to lower its cost base by CHF 100 million annually. In 2020, we even exceeded this target with a reduction of CHF 129 million. We are planning further cost reductions of CHF 100 million per year up to 2022.
And thanks to Fastweb
In 2020, Fastweb con­tin­ued its successful path in Italy. In the fixed-network business, it increased the number of broad­band cus­tomers to 2.75 million (+4.2%) and the number of mobile cus­tomers to a total of 1.96 million (+12.3%), despite considerable price pressure. As a result, Fastweb achieved total revenue of EUR 2,304 million (+3.9%) and operating income before de­pre­ci­a­tion and amor­ti­sa­tion (EBITDA) of EUR 784 million (+4.5%).
Fastweb is the clear number two in the Italian broad­band market thanks to its market share of around 16% among residential cus­tomers, 34% among large com­pa­nies and 40% among public au­thor­i­ties. Europe's fourth-largest market continues to offer exciting growth op­por­tu­ni­ties. Fastweb signed a co-investment agreement in August for the nationwide rollout of FTTH in Italy. In the mobile market, Fastweb is working with Wind Tre to build a 5G mobile network that will provide 30% coverage by 2023 and even 90% coverage by 2026.
Increased demands on networks due to the Covid-19 pandemic
Demands on network stability and availability rose sharply in the year under review as a result of the Covid-19 pandemic, making the network outages at the beginning of the year all the more painful. These fell far short of our high standards, but were resolved quickly thanks to efficient and immediate action. Our networks were fully available again during the lockdown and coped with the mas­sively higher load without any problems.
Swisscom is proactively expanding its network in­fra­struc­ture. In the year under review, Swisscom invested CHF 2.2 bil­lion in the expansion of its IT and in­fra­struc­ture, around CHF 1.6 bil­lion of which was spent in Switzer­land.
Thanks to the over 4.4 million ultra-fast broad­band con­nec­tions installed to date, Swisscom is on course to meet its expansion target of delivering speeds of at least 80 Mbps to 90% of all businesses and homes in every Swiss community by 2021. And that is by no means the limit of its ambitions. As set out in its network strategy for the period to the end of 2025, which was unveiled in 2020, Swisscom intends to double its fibre-to-the-home (FTTH) coverage and provide up to 60% of homes and businesses with bandwidths of 10 Gbps.
Winner in all Swiss mobile tests, but...
Swisscom provides its cus­tomers with an excellent mobile network that came out on top in all of Switzer­land's mobile tests in the year under review. We were also pleased to be rated the third-best mobile provider in Europe.
So far, so good, but mobile expansion can no longer keep up with the increasing volume of data traffic. While data traffic grew by 29% in 2020, we were only able to increase the capacity of our networks by 5%. 5G could ease the situation with the necessary hardware adjustments, but expansion is stalling as a result of resistance and regional moratoria. The concerns about 5G lack a factual basis: in­ter­na­tional expert organisations, such as the World Health Organisation (WHO), confirmed once again in 2020 that the recommended in­ter­na­tional limits ensure there are no health risks associated with 5G.
inOne – bundled success
The attractive inOne bundled offering is performing well in a largely saturated and heavily promotion-driven residential cus­tomers market. Swisscom had 2.45 million inOne cus­tomers at the end of 2020 (+4.8%). In total, Swisscom has 3.6 million broad­band and TV cus­tomers (–0.4%) and 6.22 million mobile cus­tomers (–1.7%). There was strong growth in home networking (smart home) solutions for controlling lighting, music or alarm systems via the Swisscom Home app, with customer numbers rising by 39%.
blue – Swisscom's new world of entertainment
In September 2020, Swisscom bundled its entertainment services – Bluewin, Swisscom TV, Teleclub and Kitag – to create the new "Swisscom blue" product family. The blue entertainment package is now also available via an app on any smartphone and tablet, not only for Swisscom cus­tomers but also for those of our competitors, thus enabling us to extend the reach of the blue offering.
The broadest blue TV package is still only available in combination with the Swisscom Box. This now also allows access to the streaming services of Amazon and the "MySports" channels with the ice hockey matches of the Swiss National League.
Tough competition in corporate business
The Covid-19 pandemic has been an ad­di­tional catalyst driving digitisation in com­pa­nies. As an integrated telecom­mu­ni­ca­tions and IT company, Swisscom is ideally positioned to meet the growing demand for cloud, security and unified com­mu­ni­ca­tion & col­lab­o­ra­tion solutions (e.g. conferencing services). Revenue from the solutions business was almost unchanged in 2020, at CHF 1,058 million (+0.9%).
Swisscom offers small businesses "inOne SME", a stan­dard­ised yet individual bundled package for Internet and tele­phony. Larger SMEs or those with more complex needs can use "Smart Business Connect", an individualised com­mu­ni­ca­tion solution with col­lab­o­ra­tion and networking features.
Ready together – especially in the extraordinary year 2020
Swisscom launched the brand platform "ready" in order to revitalise its brand both internally and externally. During the lockdown we supported our cus­tomers with a "ready together" package of mea­sures: residential cus­tomers without a flat-rate mobile sub­scrip­tion received ad­di­tional data allowances and higher Internet speeds of at least 50 Mbps, while cus­tomers stranded abroad were given ad­di­tional roaming credit. SMEs and schools benefited from home working solutions offering faster Internet speeds. Swisscom also helped SMEs create online offerings.
Sus­tain­abil­ity is an integral element of Swisscom's DNA
Swisscom's recognition as the world's most sustainable telecom­mu­ni­ca­tions company is not only confirmation of our 20-year journey, but above all an incentive to continue on this path. The key milestones in 2020 were converting to climate-neutral op­er­a­tions, providing a carbon offsetting offer on the purchase of new smartphones, and becoming the first listed Swiss company to place a green bond, with a volume of EUR 500 million.
Net­work innovations and new growth
Swisscom unveiled two im­por­tant network innovations in 2020. In the fixed network, Swisscom achieved a bandwidth of 50 Gbps in the access network under real conditions – a world first that should be ready for the market in two years. In mobile com­mu­ni­ca­tions, Swisscom achieved download speeds of over 1.2 Gbps for the first time in a moving train – im­por­tant for passengers and safety-critical rail ap­pli­ca­tions.
Swisscom is targeting further growth in its core business and related areas, such as Fastweb in Italy and digital entertainment services with blue, Smart Life and artificial intelligence and security for com­pa­nies, banks and the healthcare sector.
Share­holder return
Swisscom pursues a return policy with a stable dividend. In 2020, Swisscom paid an ordinary dividend of CHF 22 per share. The Swiss Market Index (SMI) rose by 0.8% compared with the previous year, while the Swisscom share price fell by 6.9% to CHF 477.10.
Outlook
Swisscom expects net revenue of around CHF 11.1 bil­lion, EBITDA of around CHF 4.3 bil­lion and capital ex­pen­di­ture of around CHF 2.3 bil­lion (around CHF 1.6 bil­lion of which in Switzer­land) for 2021. Subject to achieving its targets, Swisscom will propose payment of an unchanged, attractive dividend of CHF 22 per share for the 2021 financial year at the 2022 Annual General Meeting.
Sincerest thanks
The motto of this annual report is "ready". This year, our employees demonstrated that they are ready to serve their cus­tomers even in extraordinary situations and from their home office. This commitment and motivation deserve our respect. Many thanks!
You too, dear shareholders, can rely on this Swisscom spirit – in the current crisis, but also as we continue on our journey to a successful future. We would like to thank you for your loyalty and hope that you remain ready and willing to place your trust in us.
Kind regards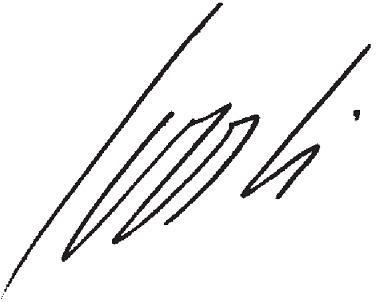 Hansueli Loosli
Chairman of the Board of Directors
Swisscom Ltd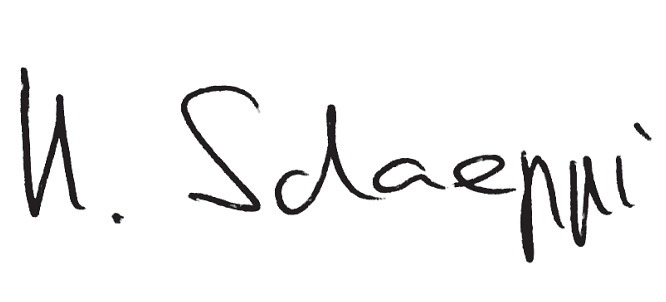 Urs Schaeppi
CEO Swisscom Ltd